(there you will find all World Championship related videos like the studio event and the livestream from the slope).
E.INFRA – Technology combines.
In short, we, the company E.INFRA GmbH, are electricians or, in order to be up-to-date, electricians 4.0. But what does that mean specifically? Strictly speaking, our company is a single-source supplier for electrotechnical and communication technology systems. We realise a variety of solutions in the area of electrical installation, control technology, safety technology, communication, network data technology and order-related plant production, irrespective of the manufacturer. Afterwards, we also undertake the tasks as service partner, of course. The slogan "Technology combines" is designed for us due to its ambiguity and puts it in a nutshell.
Whether for a residential or office building, for a hospital, a university, administration or hotel building; whether in the frame of a renovation or a new construction; we offer and implement everything relating to electrical engineering as single or complete solution. This includes the takeover from the energy supplier, distribution and connection of the entire electrical system and installation technology as well as the establishment of network environments (LAN or WLAN), the installation of safety technology (e.g. access control systems, burglar and fire alarm systems), and the realisation of complex computer centres.
In the course of the FAI World Championship of the class F3F, we support the event by providing a mobile Wireless Area Network (WAN). For this purpose, we specifically modified and equipped a Mercedes transporter with the respective network technology. Thus, we are able to provide a WLAN including internet connection during outdoor events for approx. 500 participants on an area of a football pitch irrespective of the infrastructure. Depending on the local WAN connection this is realised on the basis of DSL, VDSL, SVDSL, FTTH or LTE.
Furthermore, we establish a local network infrastructure adjusted to the respective event for the organiser in order to offer additional services. In case of the FAI World Championship, this is a TV stream for the visitors including the transmission of the measurement data. We use the Meraki Mesh function for the complete implementation.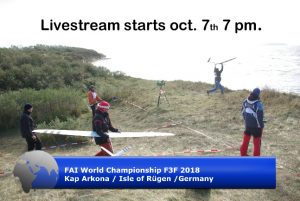 As in 2012 the FAI F3F World Championship 2018 will be broadcasted via livestream. With the professional support and help from the team of "Chemnitz Fernsehen", a local saxon TV-station, we are able to present a better program and signal quality then ever before. The continuous livestream will be augmented with the according data, like pilot name and nation, best times and the live-timing of the run that takes place. All these will also be calculated in our new F3F-timing-system, that every pilot, helper or team manager can access via tablet-pc or smartphone on the slope. The measured flight will then be synchronized momentarily with F3XVAULT when it is finished. The livestream will be viewable not only on the competition website, but also on various streaming-portals.
stay tuned!