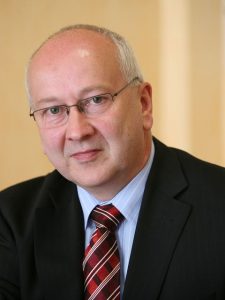 Dear aeromodelling-pilots from around the world, dear guests!
I welcome you to the Aeromodelling World Championships for RC gliders on the beautiful island of Rügen in the Vorpommern-Rügen district. Together with you we look forward to an event which will not only provide excellent sport. This World-Championship will also be a cultural highlight of the year for all participants, guests and communities involved.
As the district administrator, I am also very proud of the extensive local network of public authorities, communities, property owners, restaurateurs, through to farmers and landowners, that made hosting such an international event possible. This testifies to the hospitality and efficiency of our district.
And please use your free time to explore the natural treasures and architectural gems of the island – one of the finest in the Baltic region.
I am pleased to assume patronage of this World Championship. I wish all the participants sporting success, and the German Aero Club the necessary organiser's luck!
Ralf Drescher (CDU)  /  District Administrator Vorpommern-Rügen