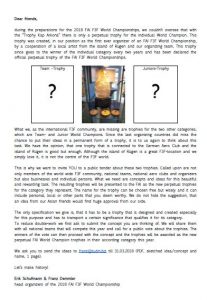 Dear friends,
during the preparations for the 2018 FAI F3F World Championships, we couldn't overlook that with the "Trophy Kap Arkona" there is only a perpetual trophy for the individual World Champion. This trophy was created, in our position as the first ever organizer of an FAI F3F World Championship, by a cooperation of a local artist from the island of Rügen and our organizing team. Since then this trophy goes to the winner of the individual category every two years and has been declared the official perpetual trophy of the FAI F3F World Championships.
What we, as the international F3F community, are missing are trophies for the two other categories, which are Team and Junior World Champion. Since the last organizing countries missed the chance to put their ideas into a permanent form of a trophy, it is our job to think about this task. We are of the opinion that one trophy with a connection to the German Aero Club and the island of Rügen is good but enough. Although the island of Rügen is a great F3F-location and we simply love it, it is not the centre of the F3F world.
This is why we want to invite YOU to a public tender for these two trophies. Called upon are not only members of the world wide F3F community, national teams, national aero clubs and organizers but also businesses and individual persons. What we need are concepts and ideas for this beautiful and rewarding task. The resulting trophies will be presented to the FAI as the new perpetual trophies for the category they represent. The name for the trophy can be chosen freely but wisely and it can include personal, local or other parts that you deem worthy. We do not want to hide the suggestion that an idea from our Asian friends would find huge approval from our side.
The only specification we give is that a trophy has to be designed and created especially for this purpose and has to convey a certain significance that qualifies it for its category.
To reduce duplicate effort we first ask you to submit the concept you are thinking of. We will share them with all national teams competing this year and call for a public vote about the trophies. The winners of the vote can then proceed with their concept and the trophies will be awarded as the new perpetual FAI World Champion trophies in their respective category this year.
We ask you to send your ideas to franz@tudm.biz till 31.03.2018 (PDF, sketched idea/concept and name, 1 page).
Let's make history!
Erik Schufmann & Franz Demmler
head organizers of the 2018 FAI F3F World Championship