Final Entry Form available
The Final Entry Form is available for download. Please register for the event, the deadline July 31st is coming near.
First registrations from all over the World
The first nations registered for 2018 FAI F3F World Championships. They can be viewed at the team page. We are expecting teams from Iceland to Australia and from the United States to Ukraine. Stay tuned!
World Championship Livestream-Project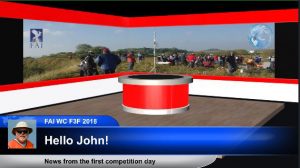 The FAI F3F World Championship 2018 will be broadcasted via livestream. read more>>>>>
Dear Friends,
we have first responses to our invitation to tenders, regarding the new perpetual trophies for junior and team champion. The Team of Soaring USA wants to endow the trophy for the winning team.
Only the trophy for the junior champion is left if nobody wants to compete with the offer from Team Soaring USA. We are very optimistic and hope to present a complete set of trophies at the competition. >>>>>>>
Erik  & Franz
head organizers of the 2018 FAI F3F World Championship